The Montgomery Center for Research in Child and Adolescent Development
The mission of the Montgomery Center for Research in Child and Adolescent Development is to achieve a better understanding of normal and abnormal child and adolescent development, with an emphasis on understanding the role of gender -- which means not only differences between female and male, but also variations among girls and among boys.

Contact us

The most recent scholarly paper published under the auspices of MCRCAD is a scholarly paper by Dr. Leonard Sax, executive director of MCRCAD. This paper is titled "Polyethylene Terephthalate May Yield Endocrine Disruptors"; it was published November 25 2009 by the journal Environmental Health Perspectives, which is the flagship journal of the National Institute of Environmental Health Sciences (NIEHS), one of the institutes comprising the National Institutes of Health (NIH). In this paper, Dr. Sax calls attention to the risk that clear plastic bottles -- most commonly used for bottled water, sports drinks, and soda, as well as peanut butter, salad dressing and other condiments -- may be a source of endocrine disruptors such as DEHP and antimony which might adversely affect development in both girls and boys. You can read the full text of this paper at no charge by going to the NIEHS / NIH web site and clicking on "Download: PDF."
---
A.G.E.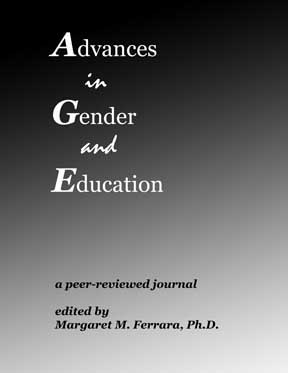 Currently, one of the main projects of MCRCAD is publishing Advances in Gender and Education (A.G.E.), a new peer-reviewed journal which launched in October 2009. In the words of editor Professor Margaret Ferrara,
"The topics in the journal cover a wide range of subjects including educational theory, educational practice, and interactions between gender and race/ethnicity/SES in the classroom. The journal also opens the door for discussions on sex differences in physiology, psychology, sociology, art and culture, and historical perspectives on gender in education. Our hope is that a better understanding of gender influences and practices in our education initiatives will set the stage for expanding educational and cultural horizons, as well as breaking down gender stereotypes."
You can download the complete first issue (29 pages) by clicking on this full text link. All downloads require use of the Adobe PDF Reader, which you can download at no charge at the Adobe download site.

If you prefer, you can download individual articles from the first issue:
Submissions wanted
If you have any insights regarding gender and education -- including not only differences between genders, but also variations AMONG girls and AMONG boys -- or if you have conducted relevant research and you would like to share your findings in a peer-reviewed scholarly journal, please consider submitting your article to Advances in Gender and Education. Contact the editor, Professor Margaret Ferrara, at Dr. Ferrara's web site.
---
Previous scholarly publications published under the auspices of MCRCAD
The Diagnosis and Treatment of ADHD in Women.
The Female Patient, 29:29-34, November 2004.
Dietary phosphorus as a nutritional toxin: the influence of age and sex.
Invited chapter, in: Annual Reviews in Food & Nutrition (Victor Preedy, editor), Taylor & Francis Publishers, London, UK, 2003, Chapter 8, pp. 158-168.
Who First Suggests the Diagnosis of Attention-Deficit Hyperactivity Disorder? A survey of primary-care pediatricians, family physicians, and child psychiatrists
[with Kathleen J. Kautz RN, BSN]. Annals of Family Medicine, 2003, 1:171-174. Available online here.
What Was the Cause of Nietzsche's Dementia?
Journal of Medical Biography, Royal Medical Society, London, February 2003, 11:47-54. Available online here.
How Common Is Intersex?
The Journal of Sex Research, August 2002, 39(3):174-178.
---
More about MCRCAD - and NASSPE
MCRCAD is a non-profit organization which the United States Internal Revenue Service has recognized as a 501(c)(3) tax-exempt organization. If you'd like to learn more about the founding of MCRCAD / NASSPE in 2002, and the mission of MCRCAD, please read the article From the Publisher in the inaugural issue of A.G.E.

Click here to go to the NASSPE home page. NASSPE and MCRCAD share offices and personnel.
Contact Us
You may contact us via e-mail at mcrcad AT verizon.net (replace "AT" with "@"; or via snail mail at 64 East Uwchlan Avenue, #259, Exton, Pennsylvania 19341; or via telephone at 610 296 2821 between 9 AM and 4 PM Eastern Time, Monday through Friday.
---